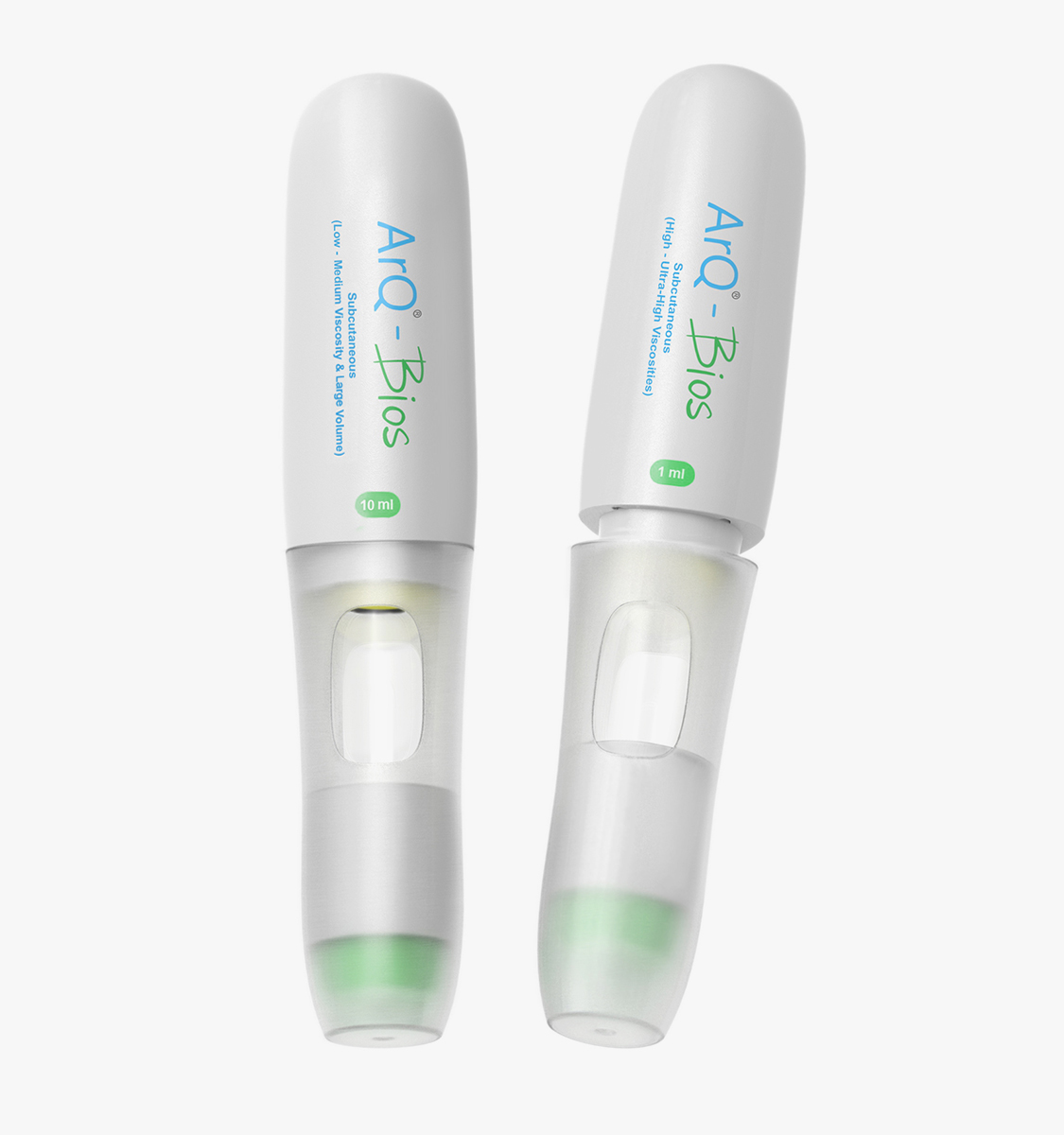 High - Ultra-High Viscosities
The ArQ® - Bios platform offers a small, simple to use package to deliver high viscosity formulations. Oval's proprietary COC PDC technology allows us to build the device around a stronger drug container that can deliver 1ml of formulations up to 1000cP through a 25G needle in  less than 5 seconds. The ArQ-Bios  platform  also can deliver  greater volumes than 1 ml subject to matching  the formulation characteristics with acceptable patient tolerability.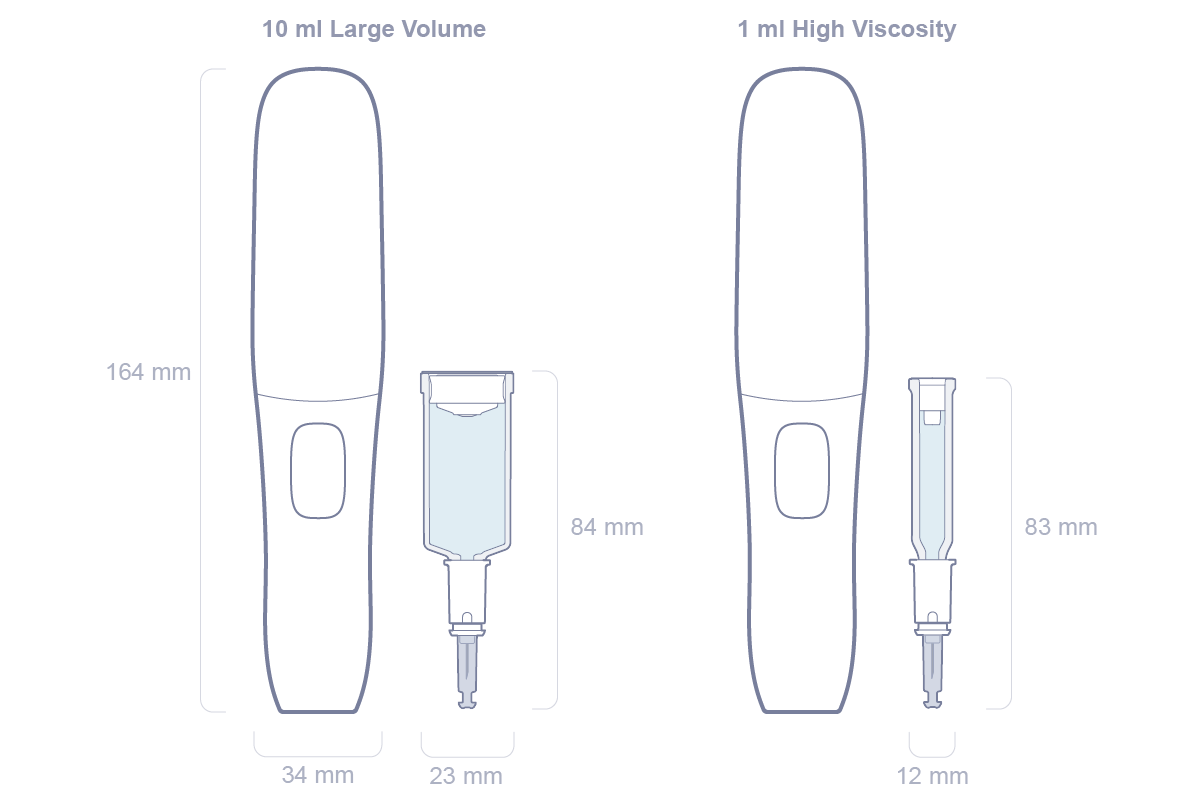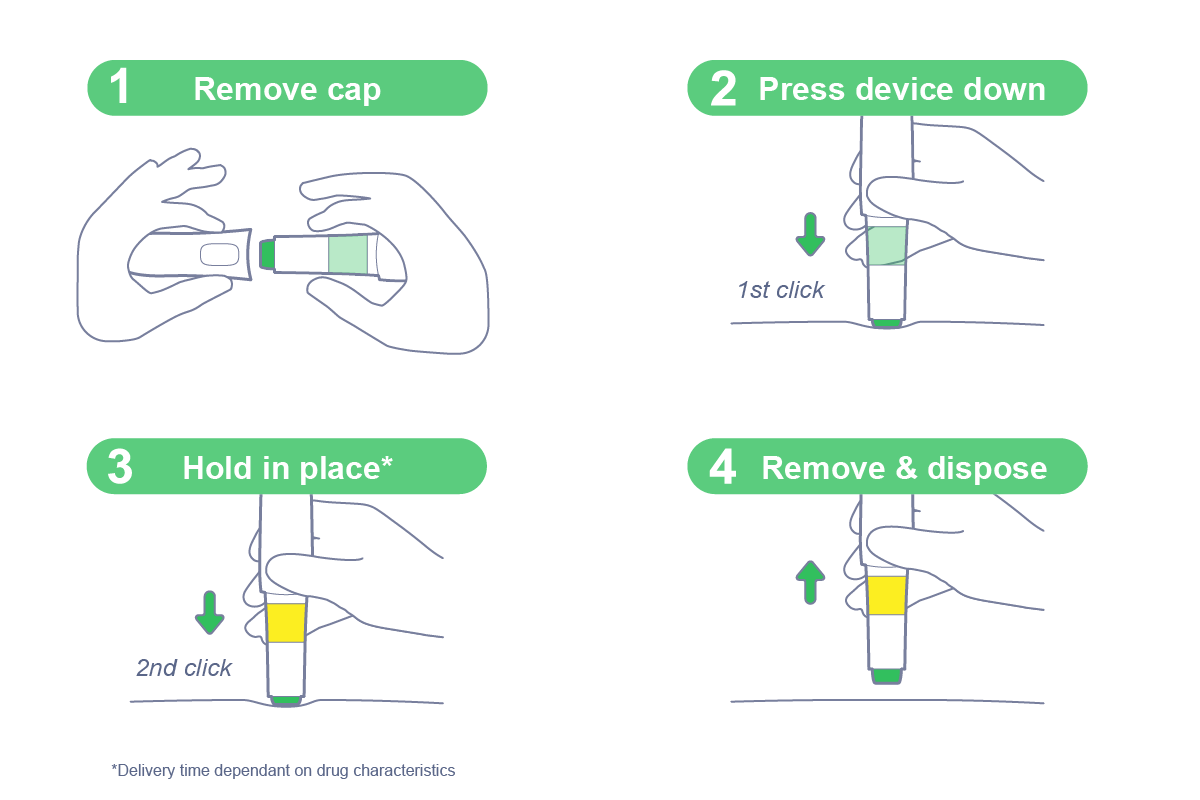 Formulation Characterisation
Characterising formulations is a key part of Ovals approach to customising ArQ® - Bios to a new drug. Through the use of our injection characterisation system, we can explore all aspects of the formulation, including challenging delivery characteristics such as non-newtonian behaviours, high sensitivity to temperatures, and tendencies to clog and settle. Understanding these characteristics at the early stages of the customisation process is key to developing an autoinjector that will reliably work for the patient every time.
Controlling Force and Impact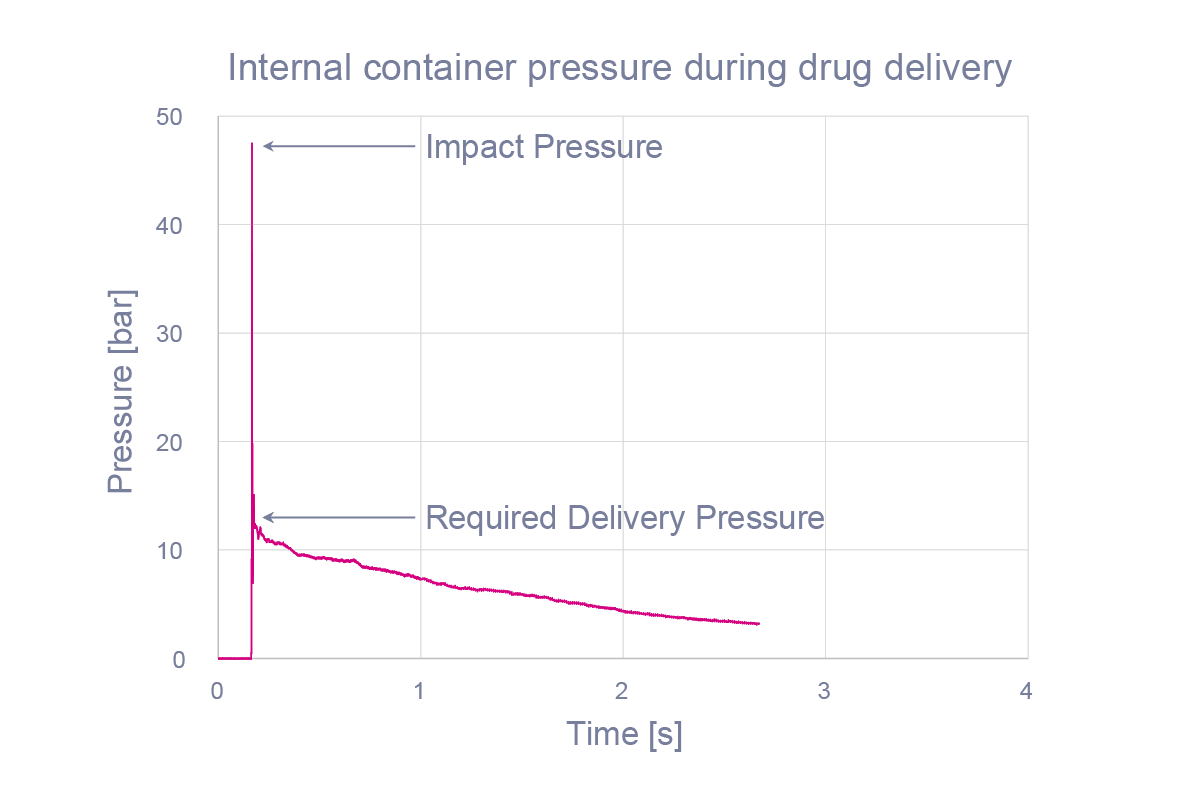 Whilst the delivery of high viscosity formulations can be achieved by widening the needle bore or increasing delivery time, both can have a negative effect on the patient's experience when using a device. The only truly patient-centric approach when delivering high viscosities is to increase the internal delivery forces of the device whilst isolating them from the user.
Increased internal delivery forces can introduce complications for the device however, leading to large stresses being applied on components during delivery. This is shown above, where a large peak in pressure is shown at the start of delivery when the container is impacted by the delivery spring.
Oval has explored multiple methods to control this force and impact in the development of ArQ® - Bios. Solutions including the use of a damped power source for delivery, preventing the build-up of momentum and avoiding impact loads, and mechanisms decoupling the delivery force from the actuation force, reducing the potential for the user to impose additional forces on the device, have been included, giving a device that reliably deals with its delivery requirements.
High Strength Drug Containers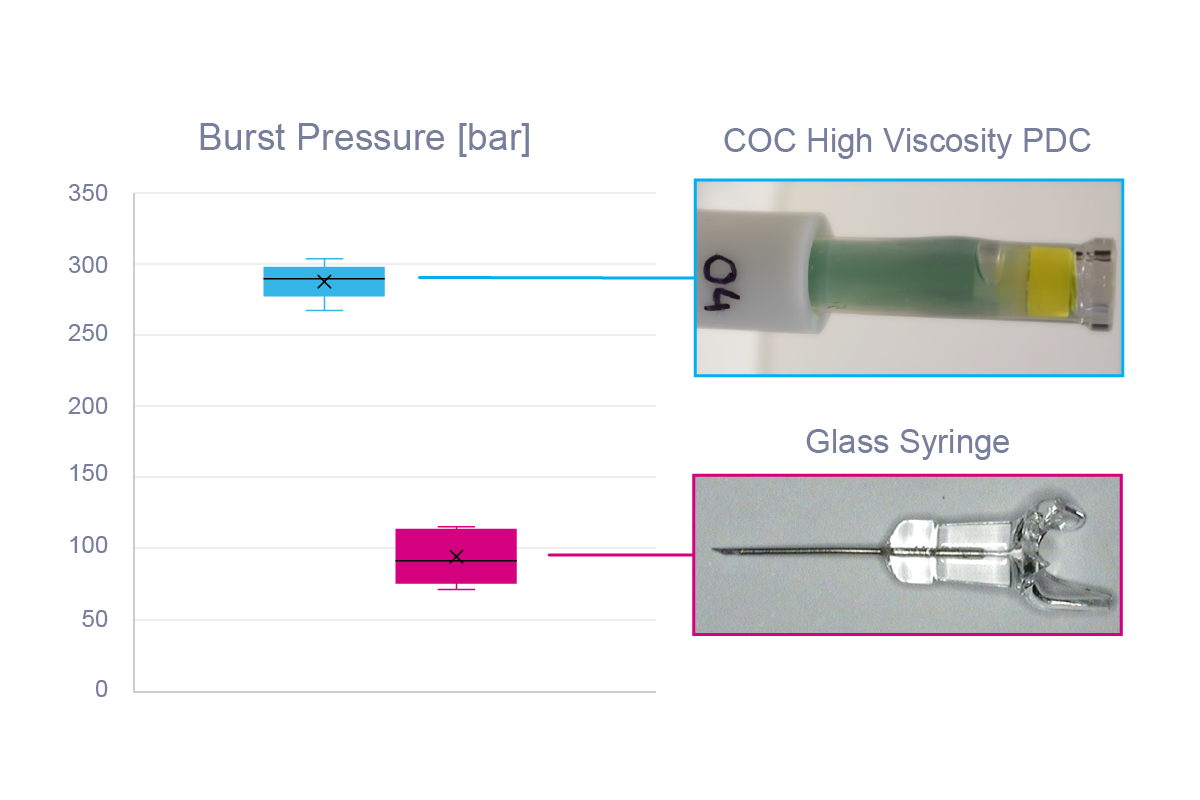 Even with measures to control force and impact on the device, maintaining an acceptable delivery time and bore diameter for the patient whilst delivering a highly viscous formulation requires high internal pressures. Oval's development work has shown that it requires ~100 bar to deliver 1ml of a 1,000cP fluid through a 25G needle in 5s. Oval's COC drug containers are ideally suited to this, as COC is more liable to deform, flex or fail plastically when stressed, unlike glass which has a tendency to shatter presenting a risk to patients. Alongside this, using COC also allows Oval to integrate features to interface with the surrounding components, ensuring a more compact, stable and robust device then that built around a glass container.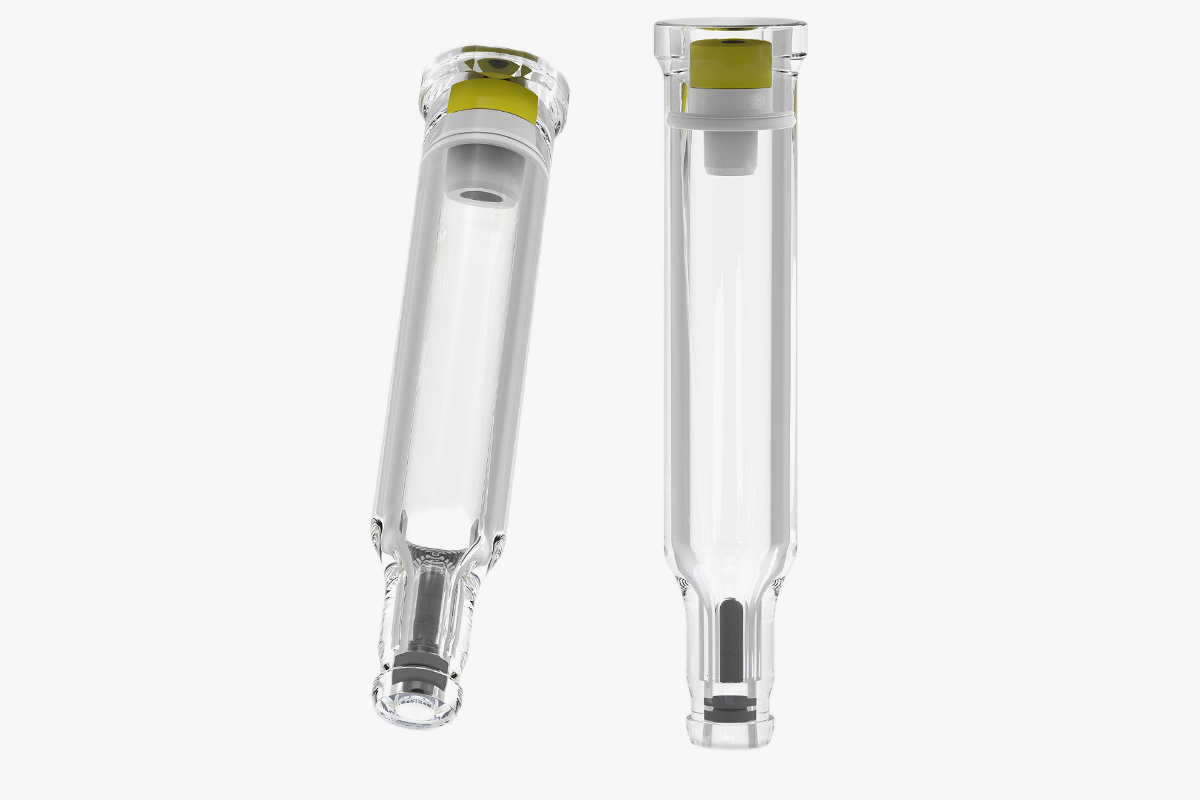 Achieving high pressures during delivery also requires the design of a plunger that can function effectively at pressure extremes. Plungers are often tasked with ensuring low friction with the container, preventing drug backflow, and providing a sterile barrier. However, combining all of these, often conflicting, requirements in a single component can lead to compromises. Instead, Oval use cup seal and foil technology, with aluminium foil induction welded to the back of the container to provide a robust microbial seal, and a high density polyethylene cup seal providing the liquid seal, whilst its lubricity maintains low glide force throughout its shelf life. To handle high pressures present during use, Oval have reinforced the cup seal design to ensure stability and rigidity of the component during use.
If you are interested in partnering with Oval on ArQ® - Bios, or want to find out more about the platform's capabilities, please contact us.